FOR IMMEDIATE RELEASE
August 18, 2010
Tamron is winner of the EISA Award for a 5th consecutive year.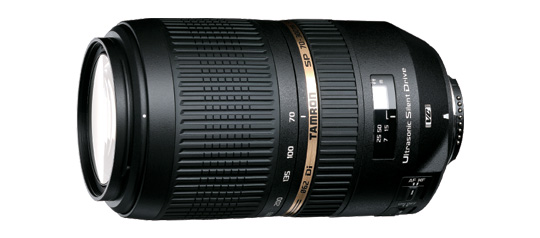 Tamron rings in its 60th anniversary by winning the prestigious EISA Award: Best Product Zoom Lens 2010-2011, for the AF 70-300mm F/4-5.6 Di VC USD – a full-size telephoto zoom lens for digital SLR cameras.
The EISA (European Imaging and Sound Association) Award is given each year to products judged to be the best in photographic, audiovisual, and video product categories. A panel of editors from over fifty leading imaging, sound, and electronic industry magazines in nineteen European countries review and vote to determine the leading products on the market.
Tamron's Most Recent EISA Awards:
2006-2007: SP AF17-50mm F/2.8 XR Di-II
2007-2008: AF 18-250mm F/3.5-6.3 Di-II
2008-2009: AF 28-300mm F/3.5-6.3 Di VC
2009-2010: AF 18-270mm F/3.5-6.3 Di-II VC
2010-2011: AF 70-300mm F/4-5.6 Di VC USD
Excerpt from the Award Citation of the EISA Jury
"The Tamron AF 70-300mm F4-5.6 Di VC USD is a very compact, comfortable and easy-to-use zoom lens. Its greatest asset is the razor-sharp image quality that makes full-frame photos look like medium-format images. The near-silent autofocus system makes the lens ideal for wildlife as well as street photography, while the superb image stabilization makes it possible to take sharp and detailed pictures more easily in low-light conditions."
AF 70-300mm F/4-5.6 Di VC USD
Equipped with Tamron's first USD (Ultrasonic Silent Drive), as well as their renowned image stabilization, VC (Vibration Compensation), this lens is ideal for photographing fast-moving subjects. It delivers the power of a telephoto zoom to shoot distant, fast-moving subjects such as sports, high-speed trains and cars, as well as aircraft. With this lens it is now easy to shoot hand-held in low light adding precision and clarity to evening, night, and indoor scenes. Ultimately, the lens dramatically improves the photographic freedom of the photographer.
This is a lens that can be enjoyed by a wide range of enthusiasts – used with a full frame or 35mm-format SLR camera, it covers the full telephoto range for the mid-range of 70-300mm, and when used with digital SLR cameras with APS-C size image sensors, it covers the ultra-telephoto zoom range equivalent to 109 – 465mm. The lens is compatible with Canon, Nikon and Sony SLR cameras.
Specifications
Model:
A005
Focal distance:
70-300mm (109-465mm on APS-C sensor cameras)
Maximum aperture:
F/4.5-5.6
Minimum aperture:
F/32-45
Minimum focus distance:
59.1″ (1.5m) using rear-element internal focus
Maximum magnification ratio:
1:4 at f=300mm
Filter thread:
62mm
Weight:
27oz. (765g)
Standard accessories:
Flower-shape lens hood
Compatible mounts:
Canon, Nikon, Sony*
* The Sony mount does not include the VC image stabilization functionality, as the body of Sony digital SLR cameras contains built-in image stabilization functionality
Tamron is a leading manufacturer of digital camera lenses for photographic, security and scientific applications. Tamron offers valuable resources of product and how-to information designed to educate and inspire consumers. The imaging consumer will find tips on how to take better photos, how to buy a camera lens, using lenses on digital cameras, a photo sharing community and more.
Tamron products are distributed in Canada by Amplis Foto Inc.