FOR IMMEDIATE RELEASE
April 3rd, 2013
Introducing the Vanguard Line of Bags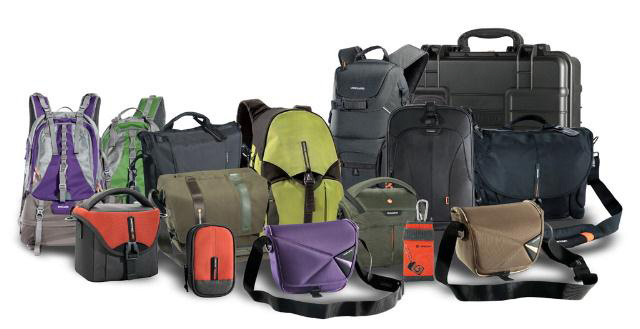 Xcenior Series

Great for the traveler, the Xcenior series of trolleys and shoulder bags features a large capacity for those who need a studio on the go. With a laptop compartment, tripod carrying system and plenty of storage, it's bound to be your "go to bag"

---

Skyborne Series

Designed for the adventure lover, the Skyborne series of bags feature air-infused cushioning and an ergonomic carrying system for those long treks. Also included are a laptop compartment, anti-theft buckles, and a tripod carrying system.

---

Quovio Series

Available in either backpack, trolley, or messenger bag, the Quovio series is ideal for both photo or video. It's filled with the features you need for professional results on the move, such as quick access main opening, a dual tripod carrying system, and either a trolley attachment loop or wheels and trolley system.

---

Heralder Series

The 2012 TIPA award winning Heralder features a great design and includes quick top access, and built-in memory card holders. With its detachable inner pouch, the Heralder is one you'd want to carry even when you're off the clock.

---

Outlawz Series

The Outlawz zoom bags are designed for fast action shooting with their quick access top opening. Secure at your waist, they feature a unique ergonomic design leg strap to keep the bag in position for when you need to move fast.

---

Kinray Series

Inspired by the unique needs of birders and outdoor photographers, the Kinray series is made from durable, weather-resistant materials and customizable for a perfect fit. Its roomy interior is perfect for a spotting scope or telephoto lens.

---

UP-Rise Series

If you're looking to carry a serious amount of gear comfortably and securely, look no further than the UP-Rise series. Featuring an expandable system, they can expand to accommodate different gear needs with one easy zipper motion while still keeping gear protected.

---

Vojo Series

Featuring stylish genuine leather accents, the Vojo series is a refined organizer designed with quick top access, and a removable inner bag.

---

 
Adaptor Series

Like its name, the Adaptor series is a versatile backpack designed to be everything you need and more. Featuring quick dual side access, and a tripod carrying system, this bag can be worn as a sling or backpack.

---

2GO Series

2GO bags are sleek, hassle-free bags that keep your camera equipment secure and at hand no matter where you go. Featuring quick and easy access, excellent padding throughout, and cushioned feet for better protection.

---

BIIN Series

The BIIN series is lightweight, built without the bulkiness usually associated with standard backpacks. It boasts large gear capacity and numerous pockets for accessories.

---

ICS Series

For those who want a truly customizable setup, the ICS series is a complete modular system that can adapt to any environment. Featuring thick padding, great protection, and weather proof exterior fabric, you can have everything you need right at your fingertips.
Vanguard products are distributed in Canada by Amplis Foto Inc.