Over the 130 year history of ILFORD there has always been a positive commitment to the traditional world of silver halide black and white photography.
HARMAN technology Limited, trading as ILFORD PHOTO, is "Passionate about Black and White" and intends to continue this commitment.
The demand for traditional monochrome films and papers remains strong. With Agfa no longer in the black and white photographic market, and Kodak pulling out of manufacturing black and white papers the future of ILFORD PHOTO products looks good for years to come.
ILFORD PHOTO has experienced a tumultuous history since its origins in 1879, with ownership of the company changing hands several times. The latest development was the acquisition in February 2005 of its black-and-white photographic business, premises and ILFORD PHOTO name from the receivers of the old ILFORD Imaging group by HARMAN technology Limited, a company created by former managers of the company and named after the founder of the ILFORD business, Alfred Harman.
Since that time, ILFORD PHOTO has re-established its primary position in the global photographic market and has led the worldwide resurgence of black-and-white photography. It is now the only manufacturer that provides a full range of film, paper, photochemistry and ancillary products for this sector.
HARMAN technology Limited is a pioneering professional imaging specialist based in Mobberley, Cheshire in the centre of the United Kingdom. The company announced the launch of its pioneering HARMAN PHOTO inkjet media range, suitable for both colour and monochrome photography, in August 2006; and the first products became available in the UK and USA in February 2007.
The ILFORD range of colour photographic products, including 'ILFORD Galerie' inkjet media, is not manufactured or marketed by HARMAN technology, and remains a separate business operated by ILFORD Imaging based in Switzerland.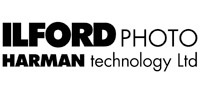 ---